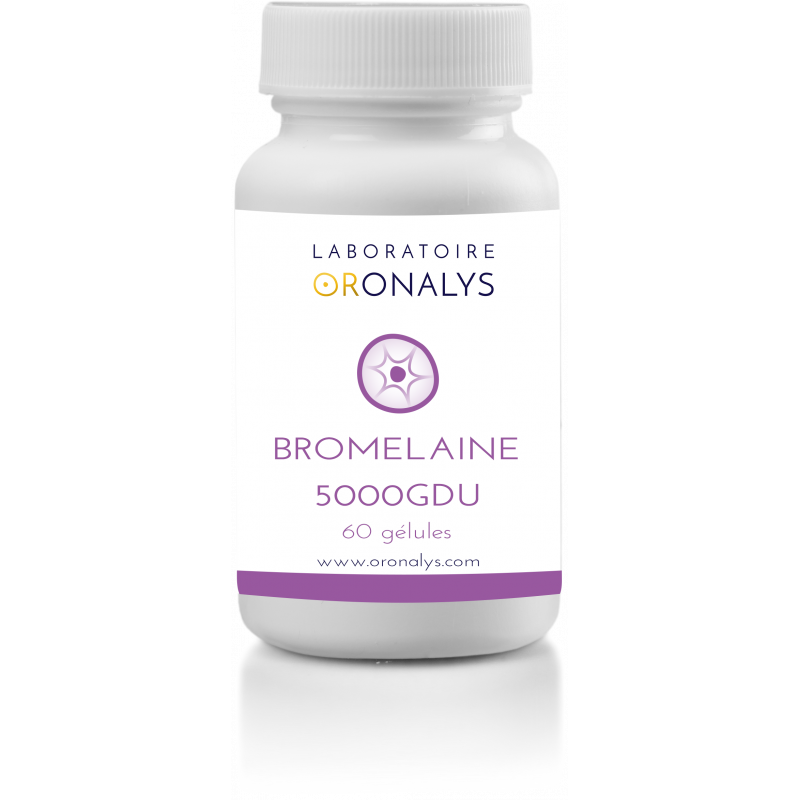  
Bromelaine 400mg 5000 GDU
Bromelain 400mg to 5000 Gdu/gr - Pineapple stem enzyme
I - Product Information:
- Anti-inflammatory- Reduces risk of cancer (tumors, metastases)- Help in cases of high platelet or cholesterol -Decreases water retention, edemas and fat clumps- Relieves arthritic and rheumatic disorders- Relieves digestive disorders- Chemotherapy and radiation therapy
II - Description:
Bromelain is a proteolytic enzyme extracted from the stem of pineapple. Native to Central America, this perennial herbaceous plant with thorny leaves is grown for its fruit in tropical regions. Its great richness in proteolytic enzymes (called bromelains), explains its specific action on digestion. Bromelains are activated by reducers such as cysteine and inhibited by oxidants. Its sulphur richness gives it an anti-arthritic action. It also contains many mineral salts (Io, Mg, Mn, K, Ca, P, Fe, S), and vitamins A, B and C. During cancer treatment, Bromelain may be associated with carotene. Bromelain VHD 5000gdu is now a benchmark and unrivalled in the nutraceutical market in terms of concentration, quality and purity, with an enzymatic activity greater than 5000 GDU, which corresponds to the activity power of Bromélaine.
III - Contraindications, side effects, interactions:
Severe liver or kidney risks, hemorrhage, gastrointestinal, diarrhea, allergic reaction, anticoagulants (acetylsalicylic acid, warfarin, etc.).
IV - Tips for use:
Anti-inflammatory: 2 to 4 capsules per day or as advised by your therapist. Chemo accompaniment (prevention of chemotherapy fibrosis): 1 to 2 capsules 3 times a day or according to the advice of your therapist.
Data sheet
Capsules per bottle

60