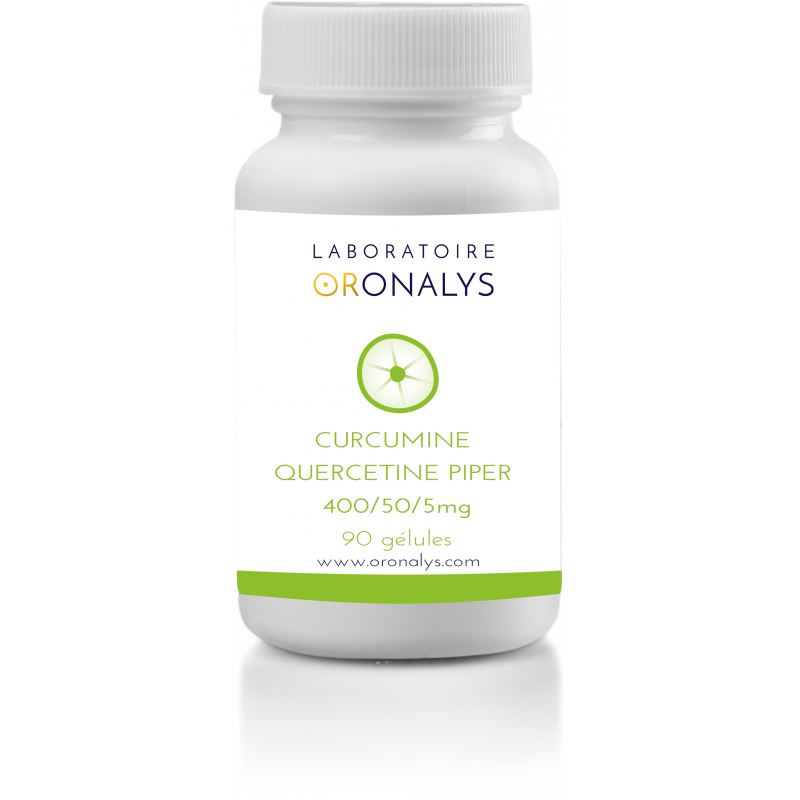  
Curc. Querc. Piper 400/50/5mg
Curcuma Longa at 98% - Quercetol at 98% - Piper longum at 95%
I - Product Information:
- Anti-inflammatory- Antioxidant- DigestiveDisorders- Reduces the risk of cancer
II - Description:
- The
Longa Turmeric
- see the full description in Product Curcumine Piper
-
Quercetin
is an excellent antioxidant. It's a very powerful flavonoid. It acts as a sensor for reactive ERO oxygenated species (or free oxygenated radicals). Quercetol inhibits the production of TNF (cytokine involved in inflammation) in macrophages, IL8 in lung cells, and two cytokines (TNF and IL-1a) in neurons. It is therefore recommended to strengthen the body in the face of food and respiratory allergies. The absence of ERO activities avoids oxidative stress and reduces inflammation. In a recent study, Kampkotter and Collaborators (2008) [11] show that quercetol treatment of Caenorhabditis elegans worms increases their resistance to oxidative stress and extends their lifespan by 15%. Quercetol would be able to regulate gene expression since it increases the translocation of the transcription factor DAF-16 in the nucleus. Quercetol also provided a significant improvement in the treatment of patients with chronic prostatitis.
- Pivre extract
(piperine):
stimulates the bioavailability of curcumin and promotes its absorption by the body.
III - Tips for use:
3 capsules a day or as advised by your therapist. Combined with a fat body for better assimilation (e.g. olive oil)
Data sheet
Capsules per bottle

90