Welcome to your shopping cart, you will find the details of your purchases as well as the summary of the total of your order.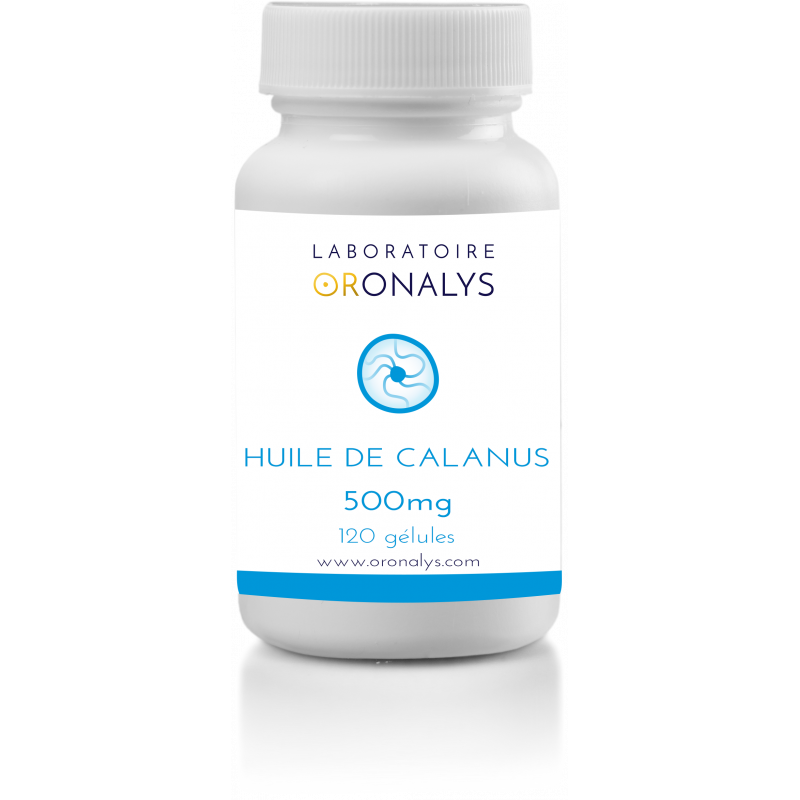  
Calanus Oil 500mg
NEW CAPACITY 120 CAPSULES
Calanus oil is a bioactive form of omega 3, which allows it to be considered today as a source of 3rd generation fatty acid. Its fatty acids are in fact specifically represented by wax esters, a highly bioavailable biochemical form. In addition, it has other significant advantages, such as its synergy of action between the different omega 3-6-7-9, the natural absence of pollutants, its content of astaxanthin, stearidonic acid, and activation GPR120, an intestinal receptor with remarkable physiological effects on blood sugar.
I - Product information:- Overweight- Abdominal fat- Imbalance of the lipid profile / dyslipidemia- Type 2 diabetes- Insulin resistance I I - Description:
Anti inflammatory effectThe effects of Calanus oil supplementation on low grade inflammation are multifactorial (1): - 74% decrease in macrophage infiltration - Reduction in the expression of pro-inflammatory genes - Increase in metabolism fatty acids, implying a decrease in the size of adipocytes, vectors of inflammation - Restoration of the balance of the omega 6 / omega 3 ratio. SDA present in Calanus oil competes with GLA (Gamma Acid Linolenic), a fatty acid from the omega 6 family, which leads to the formation of arachidonic acid, which is particularly inflammatory. The preferential biotransformation in the presence of SDA will therefore lead to the formation of EPA and then of DHA, a true anti-inflammatory. Weight management / obesityMuch research highlights the remarkable properties of Calanus oil. One of them shows that Calanus oil reduces body mass gain by 21%, abdominal fat by 34%, and hepatic triglyceride levels by 52% (1). In addition, Calanus oil will allow upregulation of the expression of adiponectin. However, adiponectin levels decrease significantly in overweight or diabetes. This induces a chronic inflammatory state, the development of insulin resistance and atheromatous plaques (2). Cardioprotective effectA recent study showed that the synergy of the components of Calanus oil, in particular omega 3 and astaxanthin, made it possible to reduce atherosclerosis of the aorta by 36.5% (9). In addition, Calanus oil has the specificity of counting among its active elements, palmitoleic acid, from the omega 7 family. It induces a reduction in weight gain, lowers the level of triglycerides, lowers blood sugar levels. , decreases insulin resistance in diabetes after only 30 days (10), but also has a beneficial effect on the inflammation of the liver (hepatic steatosis) and on the cardiovascular health (in particular by the reduction of the level reactive protein C). Metabolic syndromeDifferent studies show that Calanus oil decreases inflammation, blood sugar, and insulin resistance (3), thus having a direct positive impact on people with type 2 diabetes. III - Precautions, contraindications, adverse effects and interactions:It is advisable not to exceed the recommended daily dose. In case of anticoagulant treatment, seek medical advice (omega 3 having a fluidifying effect) It is advisable to stop taking omega 3 one month before any surgery or childbirth (omega 3 having a fluidifying effect).This supplement should not replace a varied, balanced diet and a healthy lifestyle.Do not consume in case of allergies to fish and shellfish. IV - Directions for use:2 capsules per day during meals.
Data sheet
Capsules per bottle

120